Finance Minister Mangala Samaraweera discusses cooperation with the UK State Minister for Commonwealth and UN and the Commonwealth Secretary General in London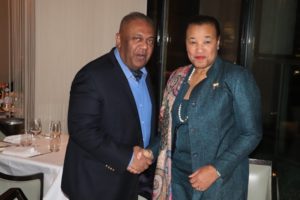 Hon. Mangala Samaraweera, Minister of Finance and Mass Media with the Rt. Hon. Patricia Scotland QC, Commonwealth Secretary General in London
Hon. Mangala Samaraweera, Minister of Finance and Mass Media of Sri Lanka met with the The Lord Tariq Ahmad of Wimbledon, Minister of State for the Commonwealth and the UN at the Foreign & Commonwealth Office of the UK, on Monday 21 January 2019, during a visit to London.  Issues of mutual interest in the Sri Lanka-UK bilateral relationship were discussed at the meeting, including Sri Lanka's progress in the reconciliation process, and the country's engagement in the Commonwealth. 
In a separate meeting on Friday 18 January 2019, Minister Samaraweera updated the Commonwealth Secretary General The Rt. Hon. Patricia Scotland, QC, on developments in Sri Lanka, and discussed Sri Lanka's engagement and cooperation with the Commonwealth.
 Minister Samaraweera was accompanied to the meetings by Sri Lanka's High Commissioner in the United Kingdom Manisha Gunasekera.
High Commission of Sri Lanka
The United Kingdom
4 February 2019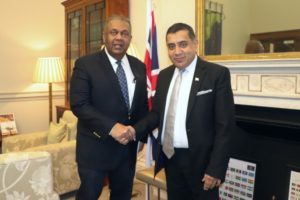 Hon. Mangala Samaraweera, Minister of Finance and Mass Media with The Lord Tariq Ahmad of Wimbledon, Minister of State for the Commonwealth and the UN in the FCO in London