Sri Lanka High Commission in London celebrates Deepavali with the participation of British Sri Lankan community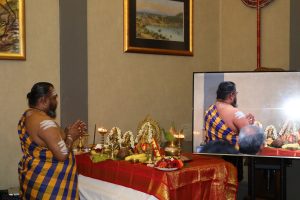 The High Commission of Sri Lanka in London held its annual Deepavali celebrations on 19 November 2021 at the High Commission premises, with the attendance of British Sri Lankan community, Councillors, UK Government representatives, and other dignitaries.
Celebrations commenced with Hindu religious observances led by Sivashri Eladchumi Thiyagaraja Kurukkal from Vel Murugan Temple in Watford, who invoked blessings on those who were present at the occasion, as well as on Sri Lanka and its people.
The Chief Guest at the celebrations, Secretary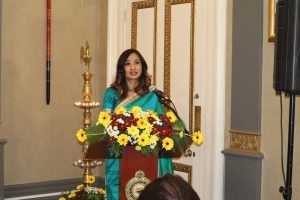 General of the Commonwealth, The Rt Hon Patricia Scotland stated that the Commonwealth is made up of 2.6 billion people of which 60% are under the age of 30, therefore it is delightful to see young Sri Lankans entertaining the audience with their music and culture.
Issuing a video message, Lord Tariq Ahmad of Wimbledon, Minister for South Asia, United Nations and the Commonwealth at the Foreign, Commonwealth and Development Office, expressed his best wishes on the occasion.  He appreciated the phenomenal contribution of the British Sri Lankan diaspora to the strengthening of the link between Sri Lankan and the UK.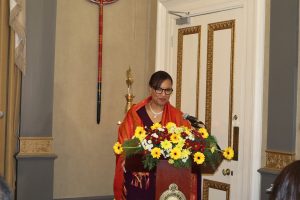 Addressing the gathering, High Commissioner Saroja Sirisena highlighted the significance of Deepavali, the Festival of Light which symbolises spiritual victory of light over darkness. She stated that just as Deepavali, "the row of lights" eliminates darkness, the world is slowly coming out of the darkness of the pandemic, and we have been able to physically participate in celebrations. She added that it was happy to see the diverse mosaic of British Sri Lankans present at the celebrations.
The event included beautiful Bharatanatyam performances by students of Director of Kalasagara UK, Usha Raghavan and a musical performance on Veena and Mridangam by students of Sivatharini Sahadevan and Sri M Balachandar. The gathering joined the recital of a Bhajan by the children of the staff of the High Commission and several members of the British Sri Lankan community.
At the conclusion of the official programme, the attendees were served with a dinner of traditional cuisine of Northern Sri Lanka sponsored by Leaf Hotels Group in the UK.
High Commission of Sri Lanka
London
25 November 2021