President joins the special banquet hosted by the Queen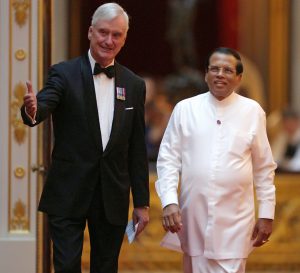 The special banquet hosted by Queen Elizabeth II of Britain in honour of the leaders attending the Commonwealth Heads of Government meeting (CHOGM) was held in Buckingham palace, yesterday (19).
Commonwealth member countries were present at this dinner.
Photo Caption : 
Sri Lanka's President Maithripala Sirisena (R) arrives to attend The Queen's Dinner during The Commonwealth Heads of Government Meeting (CHOGM), at Buckingham Palace in London on April 19, 2018. 
Britain's Queen Elizabeth II, accompanied by Britain's Prince Charles, Prince of Wales, will receive Commonwealth Heads of Government and their spouses in the Blue Drawing Room, where the evening commences with a drinks reception. The dinner will take place in the Picture Gallery where Her Majesty will give a speech. / AFP PHOTO / POOL / Daniel LEAL-OLIVAS