High Commissioner Manisha Gunasekera Visits Eelapatheeswarar Aalayam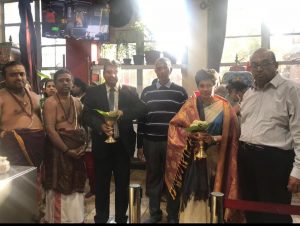 The newly appointed High Commissioner Manisha Gunasekera visited the Eelapatheeswarar Aalayam on Friday 02nd November 2018.
The Chief Priest Sureshwara Kurukkal and Ganesh Kurukkal conducted a special Pooja to bless the new High Commissioner, and the country and the people of Sri Lanka.  Deputy High Commissioner Sugeeshwara Gunaratna, and members of the Kovil Management Committee of the Eelapatheeswarar Aalayam Mr Rajasingham Jayadevan and Mr Kandiah Vivekananthan also participated in the event.
High Commission of Sri Lanka in London
03rd November 2018