Deepavali Celebrations in London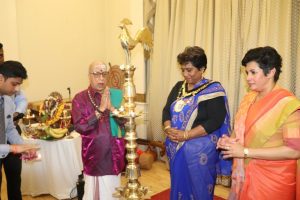 The High Commission of Sri Lanka in London held its Annual Deepavali Celebrations on Friday 16th November 2018, in the High Commission premises.
The celebrations commenced with Hindu religious observances led by Sri Ramanadan Kurukkal who invoked blessings on Sri Lanka and its people. In his address he highlighted the significance of Deepavali and stated that all Sri Lankans should unite irrespective of their religious beliefs to develop the country.
High Commissioner Manisha Gunasekera in her welcome remarks emphasised the universal appeal and relevance of the message of Deepavali in building bridges of friendship and harmony, among all communities in Sri Lanka in the context of reconciliation. She added that Deepavali, the festival of lights, brings harmony, happiness and peace, while representing the triumph of light over darkness.
Children from Kalasagara UK and other Sri Lankan dance and music schools in the UK, belonging to all faiths performed Bharatnatyam, Veena and Mridangam capturing the essence of the festival. High Commissioner Manisha Gunasekera presented special tokens of appreciation to the children who performed. The vote of thanks was delivered by Deputy High Commissioner Sugeeshwara Gunaratna.
The celebrations were attended by a large gathering of Sri Lankans including the Mayor of Harrow Kareema Marikkar. The guests were treated to a dinner comprising of traditional Tamil Cuisine.
High Commission of Sri Lanka in London
20th November 2018