Ceremonial Commencement of Work for the New Year by the Sri Lanka High Commission in London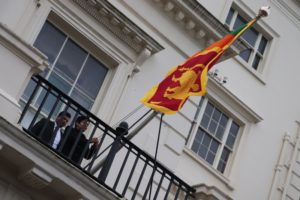 The programme commenced with the hoisting of the National Flag of Sri Lanka at the Chancery building by the High Commissioner of Sri Lanka in the United Kingdom Manisha Gunasekera, followed by the singing of the National Anthem of Sri Lanka by High Commission staff. Thereafter, two minutes' silence was observed to commemorate war heroes and all those who sacrificed their lives on behalf of the Motherland.  This was followed by the Oath of Public Servants delivered in Sinhala and Tamil languages.
The High Commissioner in her remarks thanked the staff for the excellent cooperation extended to her and to the previous Heads of Mission in the UK during the past year, with special reference to high-level visits and promotional activities carried out successfully by the High Commission in 2018. The High Commissioner also highlighted the contribution of the public service to the development policy agenda of the Sri Lanka Government, and the need to uphold the highest standards of integrity, commitment and dedication by staff in executing the mandate of the public service to achieve such goals.
The staff of the Sri Lanka High Commission in the United Kingdom ceremonially commenced work for the year 2019 with a special programme held at the High Commission premises on Wednesday 2 January 2019.
The programme ended with the lighting of the traditional oil lamp and partaking in a traditional breakfast comprising milk rice and sweetmeats to celebrate the dawn of the New Year.
The High Commissioner also participated in the Blessings Ceremony organized by the London Buddhist Vihara on 1 January.
Sri Lanka High Commission
London
4 January 2019