Sri Lanka High Commission in London hosts Annual Iftar Dinner with British Sri Lankan Muslim Community, Community Representatives and Faith Leaders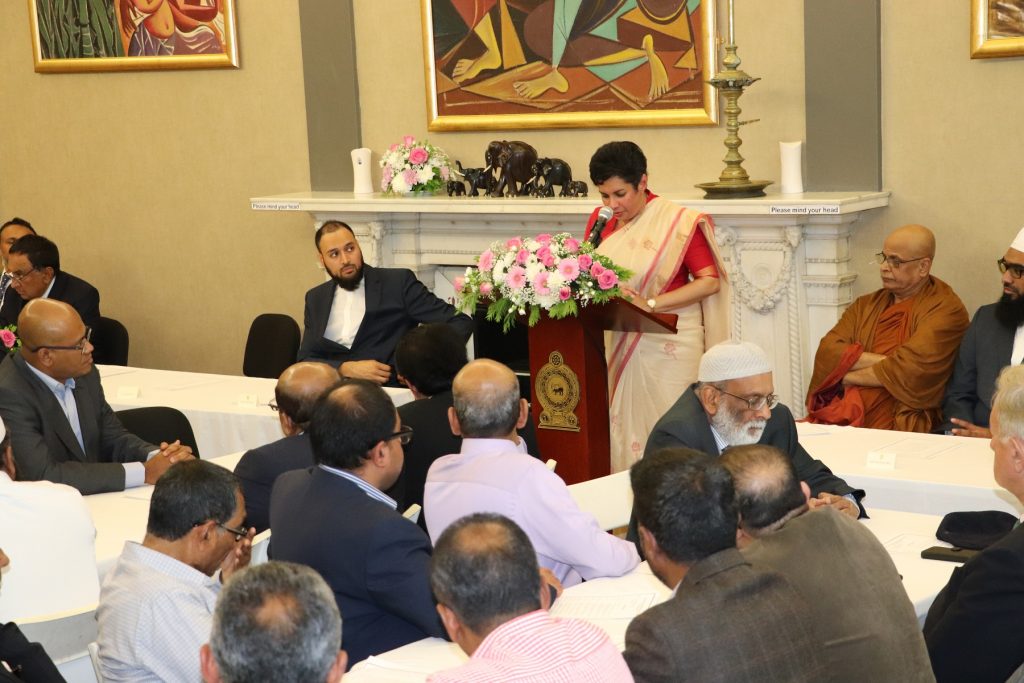 Welcome Address by High Commissioner of Sri Lanka to the UK Manisha Gunasekera
The High Commission of Sri Lanka in London hosted its annual Iftar Dinner on Wednesday 22 May at the Mission premises.  The Iftar Dinner was organized in collaboration with the Council of Sri Lankan Muslim Organizations (COSMOS UK), with the participation of the British Sri Lankan Muslim community, representatives of key British Sri Lankan associations in the UK, as well as distinguished faith leaders representing the four main religions in Sri Lanka.  The representatives of the Sri Lanka Islamic Association and the Sri Lanka Malay Association also participated in the Iftar.  The Lord Mohamed Sheikh, member of the House of Lords, friend of Sri Lanka and President of the Conservative Muslim Forum, was the Guest of Honour.
The programme commenced with the recitation of Qraath by Sheikh Imam Salman Siddiq.  Venerable Bogoda Seelawimala Nayaka Thero of the London Buddhist Vihara and Chief Sanganayaka of Great Britain; Shri Rajasekar Kurukkal of Ealapatheeswarar Aalayam, Wembley; and Reverend Father Elmo Arulnesan, Tamil Catholic Chaplaincy in the UK addressed the gathering and spoke on the significance of religious harmony and co-existence, and the importance of developing inter-faith understanding and mutual respect.
Welcoming all faith leaders and guests, Sri Lanka's High Commissioner Manisha Gunasekera in her remarks highlighted the significance of Iftar during the holy month of Ramadan, and the special and constructive role played by the British Sri Lankan Muslim community in the UK including COSMOS in fostering peace, harmony and religious co-existence in Sri Lanka encapsulated within one Sri Lankan identity.  Guest Speaker Shaykh Dr. Salim Hosanee spoke eloquently on the significance and benefits of fasting in the holy month of Ramadan.  The Lord Sheikh expressed his deep condolences to the victims of the tragic incidents in Sri Lanka, and commended the observance of Iftar with the British Sri Lankan Muslim community as well as other communities in the UK in an inclusive and multi-faith manner, thus highlighting the universal message of Peace of the Prophet Muhammad.  The President of COSMOS-UK Liyas Wahid in his remarks reiterated the significance and contribution of the Muslim community to Sri Lanka's prosperity, and welcomed the efforts by religious and civic leaders in Sri Lanka to foster harmony and co-existence among religions and communities in Sri Lanka, and the need for unity and resilience in the aftermath of the recent tragedies.  The vote of thanks was delivered by Deputy High Commissioner Sugeeshwara Gunaratna.
Following the calling for Mahrib Prayer and breaking fast, a traditional Iftar dinner was served to the guests in attendance.
Sri Lanka High Commission
London
31 May 2019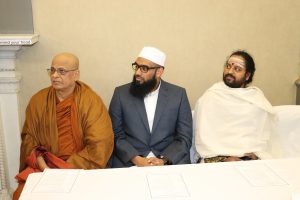 Faith leaders from left: Ven. Bogoda Seelawimala Thero, Chief Incumbent of the London Buddhist Vihara and Chief Sanghanayake of Great Britain; Sheikh Imam Salman Siddiq and Shri Rajasekar Kurukkal, Ealapatheeswarar Aalayam, Wembley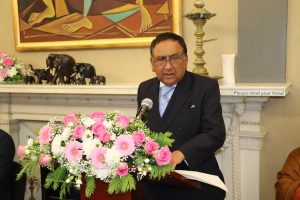 Lord Sheikh, Guest of Honour addressing the gathering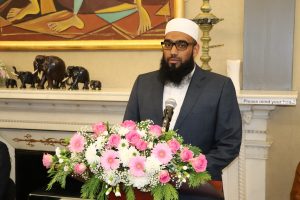 Recitation of Qirath by Sheikh Imam Salman Siddiq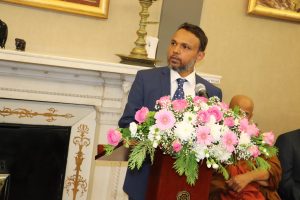 President of the Council of Sri Lankan Muslim Organizations (COSMOS UK) Liyas Wahid addressing the gathering
Rev. Father Elmo Arulnesan, Chaplain of the Sri Lankan Catholic Tamil Speaking Community addressing the gathering