𝐑𝐞𝐬𝐞𝐚𝐫𝐜𝐡 𝐒𝐲𝐦𝐩𝐨𝐬𝐢𝐮𝐦 𝟐𝟎𝟐𝟏 𝐨𝐫𝐠𝐚𝐧𝐢𝐬𝐞𝐝 𝐛𝐲 𝐭𝐡𝐞 𝐒𝐫𝐢 𝐋𝐚𝐧𝐤𝐚 𝐇𝐢𝐠𝐡 𝐂𝐨𝐦𝐦𝐢𝐬𝐬𝐢𝐨𝐧 𝐢𝐧 𝐋𝐨𝐧𝐝𝐨𝐧 𝐚𝐧𝐝 𝐭𝐡𝐞 𝐀𝐬𝐬𝐨𝐜𝐢𝐚𝐭𝐢𝐨𝐧 𝐨𝐟 𝐏𝐫𝐨𝐟𝐞𝐬𝐬𝐢𝐨𝐧𝐚𝐥 𝐒𝐫𝐢 𝐋𝐚𝐧𝐤𝐚𝐧𝐬 𝐢𝐧 𝐭𝐡𝐞 𝐔𝐊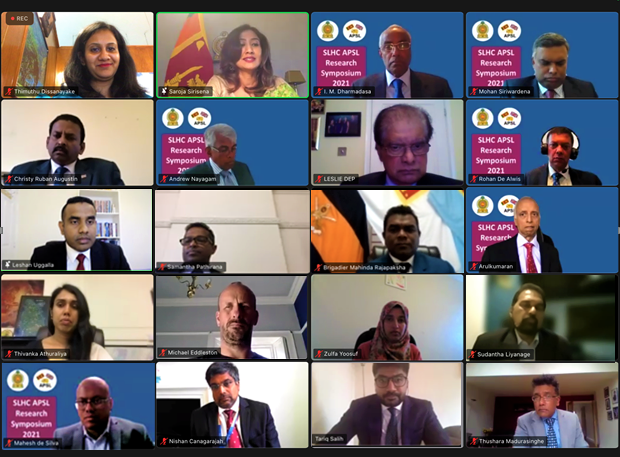 The 'SLHC and APSL Research Symposium 2021' organised by the Sri Lanka High Commission in the UK and Association of Professional Sri Lankans (APSL) in the UK was held virtually on 01 September 2021 with representations of 25 universities in Sri Lanka and the UK.  The main objective of the Research Symposium was to provide a platform to Sri Lankan researchers (PhD/MPhil) to showcase their research work to academics of the two countries, and vice versa, and to provide an opportunity for the researchers to interact with experts in their respective fields of study.
The Keynote speech of the event was delivered by Professor Nishan Canagarajah, Vice-Chancellor, University of Leicester, UK who is a past pupil of St. John's College, Jaffna, and an alumnus of University of Cambridge. Professor Sudantha Liyanage, Vice-Chancellor, University of Sri Jayewardenepura, delivered the Guest Speech. Professor Liyanage is an alumnus of University of Wales.
The symposium comprised 12 academic presentations by researchers from universities in Sri Lanka and the UK under four sessions. The winner of the Symposium was Dr M M P N Piyasena from the Queen's University Belfast. H G N Rajapaksha from Wayamba University of Sri Lanka and Malsha Devindi Geekiyanage from University of Salford, UK won second and third places respectively.
Speaking at the event, High Commissioner Saroja Sirisena stated that this initiative would pave the way for future collaboration between the UK and Sri Lanka in the education sector, as well as to connect 1st and 2nd generation British Sri Lankans. The event was also addressed by Thushara Madurasinghe, President of the APSL in the UK.
The High Commission and APSL intend to make this an annual joint event.
High Commission of Sri Lanka
London
06 September 2021