President Gotabaya Rajapaksa participates at the World Leaders Summit of COP26
President Gotabaya Rajapaksa participating at the World Leaders Summit of the 26th United Nations Climate Change Conference of the Parties (COP26) addressed the plenary on 01 November 2021.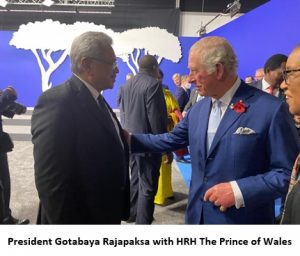 He stated that Sri Lanka as a developing tropical island nation with abundant biodiversity, is deeply aware of the impacts of climate change, and its rich philosophical heritage, shaped by Lord Buddha's teachings, places great value on environmental integrity. He also called upon all nations to work together in a spirit of true cooperation to overcome climate crisis and sustain humanity and the planet.
President Rajapaksa also had the opportunity to meet world leaders on the sidelines of the COP26.
Among them were His Royal Highness The Prince of Wales, President of Kenya Uhuru Kenyatta, President of Kyrgyzstan Sadyr Japarov, President of Ukraine Volodymyr Zelensky, Prime Minister of Japan Fumio Kishida, Prime Minister of Kuwait His Highness Sheikh Sabah Khalid Al-Hamad Al-Sabah, His Highness the Amir Sheikh Tamim bin Hamad al-Thani of Qatar, and Director General of the World Trade Organisation Dr Ngozi Okonjo-Iweala.
Holding a bilateral meeting with His Royal Highness the Crown Prince and Prime Minister of Bahrain Salman bin Hamad Al Khalifa, the President discussed strengthening longstanding bilateral ties and enhancing cooperation between the two countries in the multilateral arena.
President held productive bilateral meetings with the President of Serbia Aleksandar Vučić and Prime Minister of Nepal Sher Bahadur Deuba and discussed matters of mutual interest and strengthening the multifaceted bilateral relations between Sri Lanka and Serbia, and Sri Lanka and Nepal.
The President also held discussions with the Secretary General of the Commonwealth The Rt Hon Patricia Scotland QC and reaffirmed Sri Lanka's commitment towards climate action, and engagement with the Commonwealth.
COP26 Summit which is held from 31 October to 12 November 2021 brings together world leaders, government representatives, negotiators, businesses and citizens to discuss accelerating action towards the goals of the Paris Agreement and the United Nations Framework Convention on Climate Change.
Sri Lanka High Commission
London
08 November 2021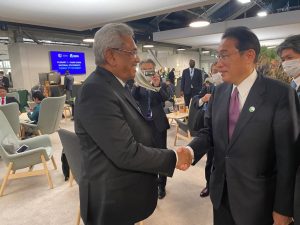 President Gotabaya Rajapaksa with Prime Minister of Japan Fumio Kishida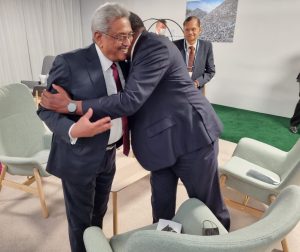 President Gotabaya Rajapaksa with President of Kenya Uhuru Kenyatta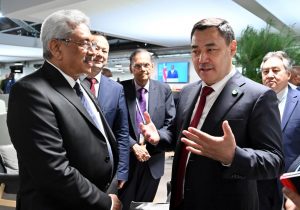 President Gotabaya Rajapaksa with President of Kyrgyzstan Sadyr Japarov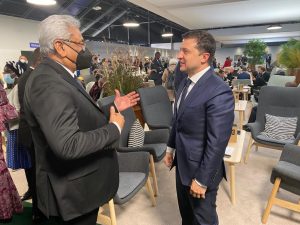 President Gotabaya Rajapaksa with President of Ukraine Volodymyr Zelensky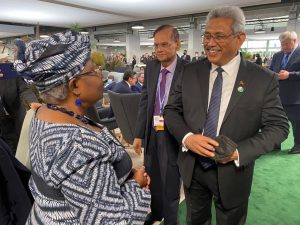 President Gotabaya Rajapaksa with Director General of the World Trade Organisation Dr Ngozi Okonjo-Iweala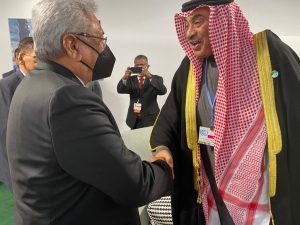 President Gotabaya Rajapaksa with Prime Minister of Kuwait His Highness Sheikh Sabah Khalid Al-Hamad Al-Sabah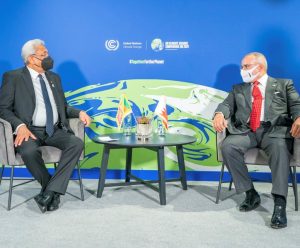 President Gotabaya Rajapaksa with His Royal Highness the Crown Prince and Prime Minister of Bahrain Salman bin Hamad Al Khalifa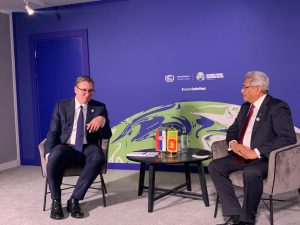 President Gotabaya Rajapaksa with President of Serbia Aleksandar Vučić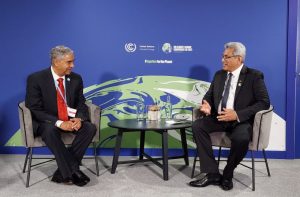 President Gotabaya Rajapaksa with Prime Minister of Nepal Sher Bahadur Deuba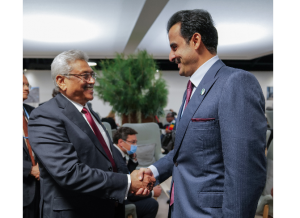 President Gotabaya Rajapaksa with His Highness the Amir Sheikh Tamim bin Hamad al-Thani of Qatar