Ceylon Tea Tasting Event in Stafford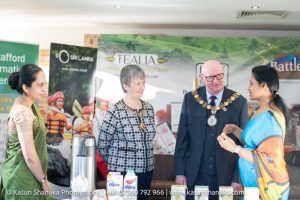 The High Commission of Sri Lanka in London participated in a Ceylon Tea Tasting event which was organised in Stafford in the West Midlands. The 4-day Ceylon tea tasting event was organised by the Managing Director of Stafford International Supermarket Roshan Uyanwatte.
This free of charge tea tasting was open to public. The visitors were able to taste the distinct flavours of a variety of Ceylon black tea and flavoured tea. The inauguration of the tea tasting event was attended by Mayor of Stafford Toni Nixon, The Mayoress Hazel Nixon and Minister (Commercial) of the High Commission Dr Lakmini Mendis.
Dr Mendis delivered a speech themed 'Our Heritage and Story Behind Ceylon Tea' enlightening the audience about the history of the introduction of tea to Ceylon, the process of making orthodox Ceylon tea, commercialisation of Ceylon black tea and the current market trends for Ceylon tea in the UK market.
The event was branded with Sri Lanka Tea Board display banners, Ceylon tea promotional material and Sri Lanka Tea Board branded face masks.