Media release: President Ranil Wickremesinghe attends the Coronation of His Majesty King Charles III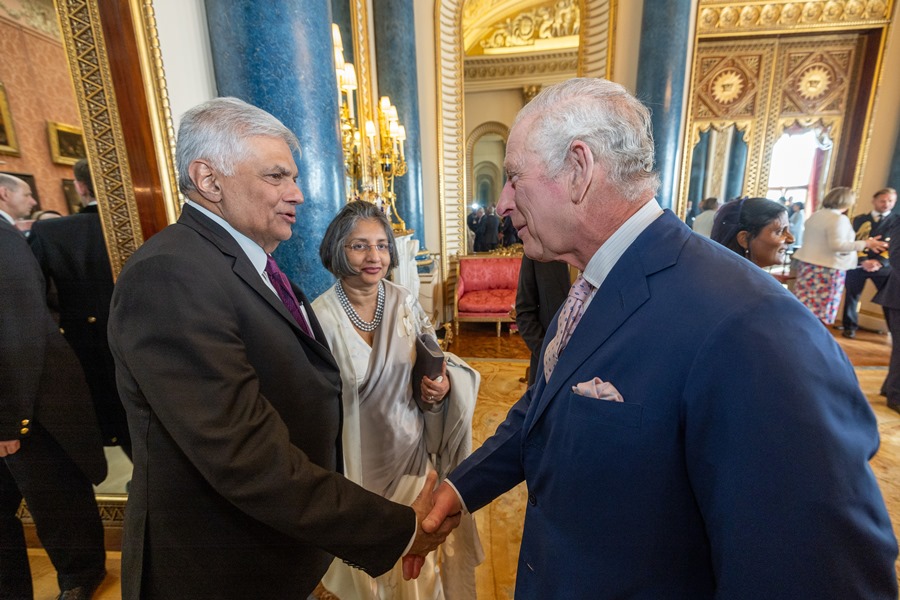 President Ranil Wickremesinghe visited the UK from 4-7 May 2023 to attend the Coronation of His Majesty King Charles III.
Prior to Coronation, on Friday, 5 May, President Wickremesinghe attended the Commonwealth Leaders Event at Marlborough House which was joined by His Majesty the King as the new Head of the Commonwealth. Commonwealth Leaders discussed the future of the Commonwealth, the potential of Commonwealth Youth to advance the principles set out in the Commonwealth Charter, including those of peace and sustainable development. President Wickremesinghe, in his remarks outlined the importance of the Commonwealth playing a more significant role in supporting education reforms that encourage youth involvement. He also called on the Commonwealth to bolster connectivity through digitization.
Alongside the Leaders Event, First Lady Prof Maithree Wickramasinghe joined as a discussant at the Spouses programme led by First Lady of Rwanda Jeannette Kagame. The discussion focused on the action needed to accelerate elimination of cervical cancer in the Commonwealth and beyond. First Lady Prof Wickramasinghe, in her remarks highlighted progressive action taken by Sri Lanka for elimination of cervical cancer through pre-detection surveillance, and island wide vaccination programmes. The Leaders Event and the Spouses programme were followed by a Reception hosted by His Majesty King Charles III at the Buckingham Palace.
On Saturday, 6 May, President Wickremesinghe and the First Lady attended the Coronation of His Majesty The King and Her Majesty The Queen Consort held at the Westminster Abbey. The event was attended by around two thousand guests including foreign monarchs, world leaders, British royalty, and public representatives. The Secretary of State for Foreign, Commonwealth and Development Affairs The Rt Hon James Cleverly MP hosted a reception for the visiting world leaders at the Church House after the Coronation.
On the invitation of the British Government, a ten-member contingent of Sri Lankan armed forces representing the tri-forces, participated in the Coronation Procession from Westminster Abbey to Buckingham Palace accompanying Their Majesties the King and the Queen Consort after the Coronation. The Coronation Procession included Armed Forces from across the Commonwealth and the British Overseas Territories, and all Services of the Armed Forces of the United Kingdom, alongside The Sovereign's Bodyguard and Royal Watermen.
During the visit, President Wickremesinghe held bilateral meetings with President of Rwanda and Chair in Office of the Commonwealth Paul Kagame and the President of Ghana Nana Addo Dankwa Akufo-Addo, to discuss ways of strengthening bilateral relations.  The meetings were attended by High Commissioner of Sri Lanka to the UK Mrs Saroja Sirisena, and the President's Director of International Affairs, Mr. Dinouk Colombage.
President Wickremesinghe also visited London Buddhist Vihara to attend the Vesak programme on 7 May, during which Ven Dr Bogoda Seelawimala, Chief Incumbent of the Vihara and the Chief Sanga Nayaka of Great Britain invoked blessings on the President and the people of Sri Lanka.
High Commission of Sri Lanka
London

9 May 2023