Media Release: Ten-member contingent representing the tri-forces of Sri Lanka participates in the Coronation Procession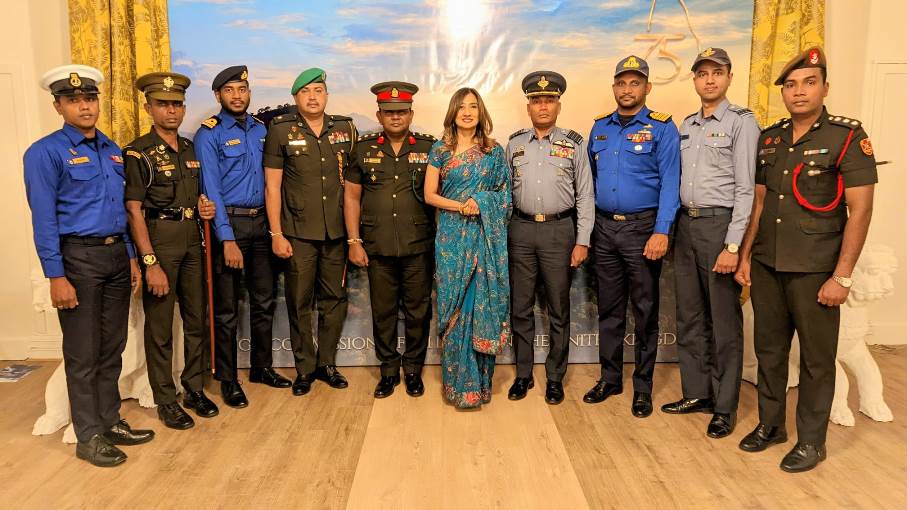 On the invitation of the British Government, a ten-member contingent of Sri Lanka armed forces visited the UK from 30 April- 7 May 2023 to take part in the Coronation Procession of Their Majesties King Charles III and The Queen Consort.
The delegation reached London on 30 April 2023 and took part in the rehearsals conducted by the UK Ministry of Defence. On 3 May, High Commissioner of Sri Lanka to the United Kingdom Saroja Sirisena met the members of the delegation at the High Commission and expressed appreciation on taking part in the Coronation Procession.
On 6 May, the contingent joined the Coronation Procession which accompanied Their Majesties the King and the Queen Consort from Westminster Abbey to Buckingham Palace through the streets of Central London after the Coronation. The Coronation Procession included Military representatives from 33 Commonwealth nations and six British Overseas Territories. The Household Cavalry Mounted Band and The King's Troop Royal Horse Artillery led the Procession, followed by 400 service personnel from the Armed Forces of the Commonwealth flanked by 114 Guardsmen of the Household Division carrying Realm and Commonwealth flags.
The delegation was headed by Captain BGPFA  Wickramasuriya of Sri Lanka Navy and Group Captain PN Gunathilake of Sri Lanka Air Force. Other members of the delegation were Major W W N C  Waduge, Captain A T W P  Hewage and WO 1 W P D R Weerasinghe of Sri Lanka Army, Lieutenant DWCU Wimalaguna and Petty Officer RM Aruna of Sri Lanka Navy, Flight Lieutenant MADAP Munasinghe and Flight Sergeant Wickramasinghe MAPR of Sri Lanka Air Force.
High Commission of Sri Lanka
London
10 May 2023