Media Release: Sri Lanka High Commission in London celebrates Vesak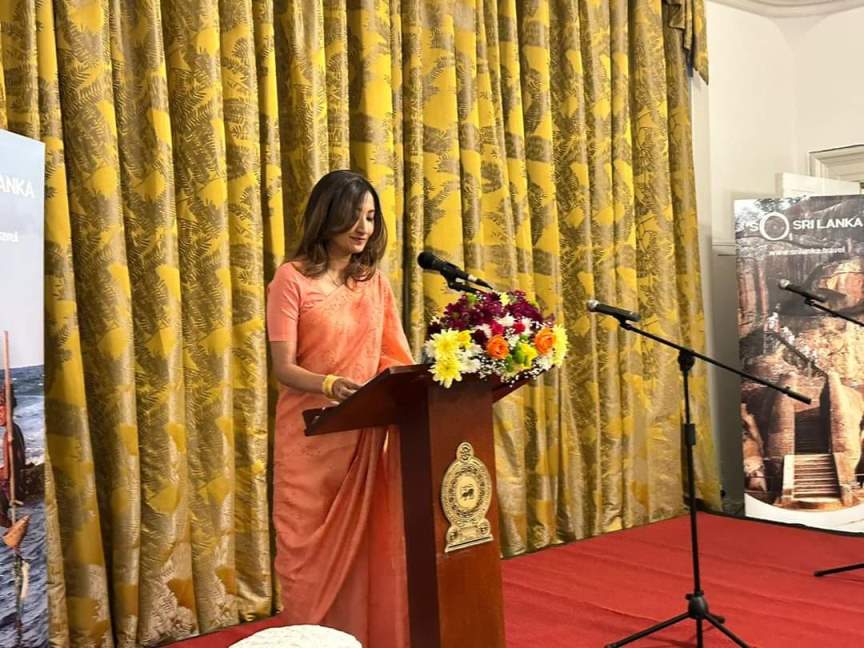 The High Commission of Sri Lanka in London, in collaboration with the Sri Lanka Tourism Promotion Bureau held annual Vesak celebrations from 12-14 May 2023 at the High Commission premises.
The celebrations began with a ceremony on 12 May 2023 with the attendance of the Maha Sangha, the diplomatic corps and members of British Sri Lankan community. Welcoming the invitees, High Commissioner Saroja Sirisena highlighted the significance of Vesak, one of Sri Lankan's most celebrated festivals and the most colourful one which carries connotations of beauty, warmth and camaraderie. It was highlighted that the High Commission made efforts to creating a glimpse of Sri Lanka's beloved festival for the benefit of second and third generation British Sri Lankans, enabling them to connect with the country of their heritage.
Delivering the Anushasana, Ven Dr Dedunupitiye Upananda Thero of London Buddhist Vihara spoke of the principles of governance as enshrined in Buddhism, which are "Achchawa" – uprightness in taking decision and " Maddawa"- softness or kindness towards the citizens, and their applicability in the modern context. Referring to the Four Noble Truths, he preached on the universal applicability of Buddha's teaching and the pragmatic approach of Buddhism to human conditions.
Children of Muthuhara Rupavahini UK and children of the Rahula Dhamma School of London Buddhist Vihara added colour to the programme by singing Bhakti Geetha.
On 13 May, the High Commission organised a Vesak lantern making workshop for the children of British Sri Lankan community at the High Commission premises. Around 30 children representing all ethnicities participated in the workshop and made Vesak lanterns under the guidance of a teacher at the Dhamma School at Rahula London Buddhist Vihara, who explained the connotations of the Vesak lantern.
With the intention of showcasing the spirit of Vesak as celebrated on the streets of Sri Lanka, a Vesak Kalapaya was organised at the High Commission premises on 12, 13 & 14 May 2023. Members of the Sri Lankan community as well as British nationals visited the Vesak Kalapaya to view Vesak decorations which included a huge rotating lantern. The visitors were also able to enjoy local street food at the Dansala on 13 & 14 May 2023.
High Commission of Sri Lanka
London 
15 May 2023