High Commissioner Rohitha Bogollagama assumes duties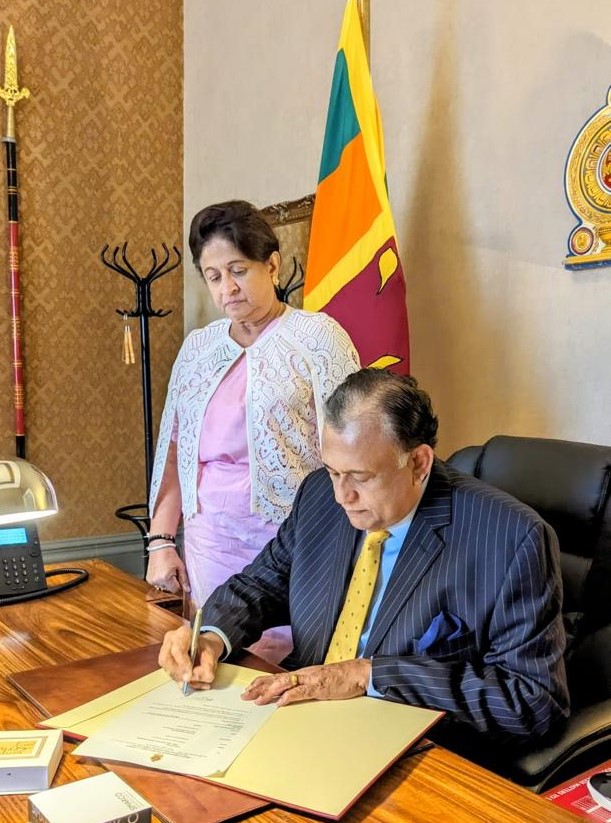 The High Commissioner of Sri Lanka to the United Kingdom Rohitha Bogollagama who arrived in London on 19 November 2023 assumed duties at the High Commission at a simple ceremony today, 20 November 2023. High Commissioner Bogollagama was received upon arrival at Heathrow Airport by Mrs Kathryn Colvin, Special Representative of the UK Foreign Secretary.
Addressing the High Commission Staff upon assumption of duties, High Commissioner Bogollagama emphasised the importance of advancing national interests and urged the staff to work towards progressing the existing friendly relations between Sri Lanka and the United Kingdom. His assumption of duties was marked by the lighting of the oil lamp and milk rice and other sweetmeats being served in keeping with Sri Lankan traditions.
Following assumption of duties, High Commissioner Bogollagama paid a visit to London Buddhist Vihara where religious observances and chanting of seth pirith was conducted by the Chief Incumbent of the London Buddhist Vihara and the Chief Sangha Nayake of Great Britain the Most Venerable Bogoda Seelawimala Thero.
High Commissioner Bogollagama has been a Member of the Parliament of Sri Lanka between 2000-2010 and has served in several key ministerial positions during his tenure, in addition to being appointed as the Governor of the Eastern Province from 2017-2019. While being a Member of Parliament Mr. Bogollagama served as Minister of Industries (2001-2004), Minister of Advanced Technology and National Enterprise Development (2004-2005), Minister of Enterprise Development and Investment Promotion (2005-2007) and Minister of Foreign Affairs (2007-2010).
In addition, High Commissioner Bogollagama served as the Chairman of the SAARC Council of Ministers (2008-2009), while contributing to establishing strong diplomatic relations with other countries as a Member of the Commonwealth Ministerial Action Group (2007-2009), Vice President of the Non-Aligned Movement (2009) and Chairman of the Asia Cooperation Dialogue Meeting (2009) among others. He was appointed by the President as the Governor of the Eastern Province of Sri Lanka , a portfolio he held between 2017-2019.
Prior to contesting the elections in 2000, High Commissioner Bogollagama has served in key positions heading various Government and Private Sector Institutions. Some of the highlights in his list of appointments include serving as the Director of the Sri Lanka Foreign Employment Bureau (1989-1993), Chairman, Sathosa Printers Ltd., (1992-1993), Chairman, Sri Lanka Cement Corporation (1993-1994), Chairman and Director General, Board of Investment, Sri Lanka (1993-1994) and Director, Sri Lanka Export Development Board during the same year, proving his expertise in diverse fields.
High Commissioner Bogollagama entered Sri Lanka Law College in the year 1973 to pursue a career in law. With the completion of successive examinations, he commenced his legal practice in 1976 with a special focus on criminal law. In 1987 Mr. Bogollagama expanded his expertise on commercial law with overseas engagements in Shipping, Trade, Settlements, Arbitration and Negotiation. During this period he has been responsible for advising major international clients including Maersk Shipping of A. P Moller & Company, Denmark and Voice of America of the Government of United States.
High Commissioner Rohitha Bogollagama is a past pupil of Ananda College, Colombo.
High Commission of Sri Lanka
London
20 November 2023