High Commissioner Manisha Gunasekera visits Sri Lanka Muslim Cultural Center (SLMCC) in Harrow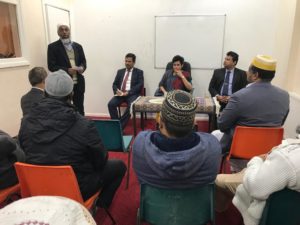 High Commissioner of Sri Lanka to the United Kingdom Manisha Gunasekera met with the members of the Board of Trustees of SLMCC and President and Secretary as well as Executive Committee members of the Council of Sri Lanka Muslim Organisations (COSMOS) in Harrow on Wednesday 05 December 2018.
During the meeting, the High Commissioner emphasized the importance of the Muslim community both within the fabric of Sri Lankan society and the Sri Lanka diaspora in the UK. Future areas of mutual cooperation were discussed during the meeting.
The SLMCC was founded in 2001. It extends services not only to the Sri Lankan community but also British Muslim communities of more than 28 other nationalities promoting religious, social and cultural matters. The SLMCC comes under the umbrella organization of COSMOS.
The High Commissioner was accompanied by Deputy High Commissioner Sugeeshwara Gunaratna and Counsellor N.L.A. Haleem of the High Commission.
High Commission of Sri Lanka in London
07 December 2018